Custom Bathroom Vanity Cabinets Maryborough trends 2022. Ok so this is a very different bathroom look, but if you are into nature and calming colours this may be for you.
About the Green
Custom bright green cabinets work in this bathroom because its dark and the other surfaces are non reflective. Accompanied with dark grey matt walls and large hanging plants to counter the green, it starts to become a part of the bathroom rather than it being the overpowering colour. The lighting is clever and uses the shadow of the large wall plant as a part of the design rather than a happy accident.
What about longevity
This design in regards to resale and longevity I think may not be a good look for a standard home. However if the rest of the house and gardens are just as quirky I think it would work. It is a modern look however those shades of green where big in the 70's and it seems to be making a come back. So you've got a 70's colour on the cabinets with no handles which is quite modern. Textures are a mix of modern and classic, stone that's been around for centuries with industrial modern look walls. All of these design elements put together definitely works, I do think though that the climbing wall plant brings it all together and without it the design would be too clinical.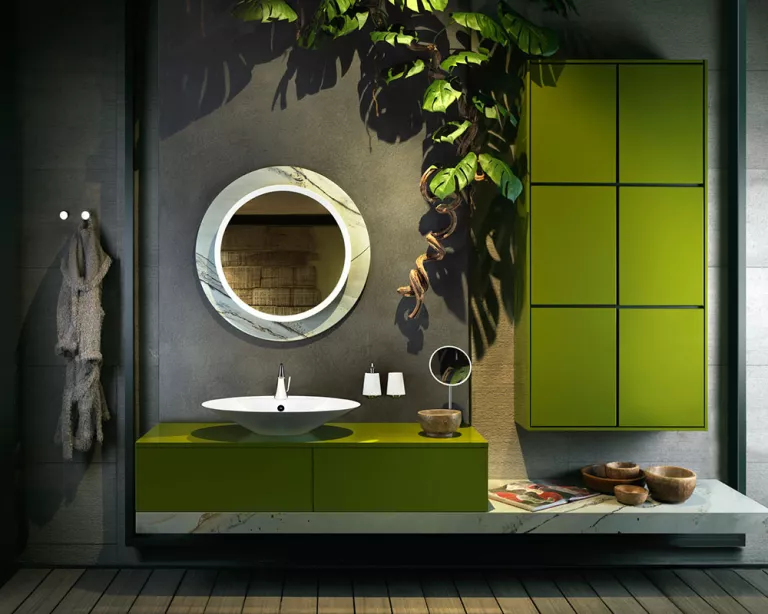 Source – Homes and Gardens Bathroom Trends 2022
https://www.homesandgardens.com/news/bathroom-trends-203661
Below are the examples from our show room for Custom Bathroom Cabinets Maryborough.
Contact us for a free Quote, even if you have a modest budget and you like this bathroom design, we can change out stone to laminate and use a different finish on the cabinets so you can achieve the look below. We are available via appointment for consultations.